Mr. Rahim Hussain, MBBS, MRCS(UK), FRCS (Neurosurgery) Glasgow
Mr Rahim Hussain is an experienced neurosurgeon and spinal surgeon. He joined the NHS in 2005 as Senior Clinical Fellow in Neurosurgery in Royal Free Hospital, London. He completed a Spinal fellowship in Walton Centre for Neurology and Neurosurgery, Liverpool.
He is currently working as a Consultant Neurosurgeon in the University Hospitals Coventry and Warwickshire (UHCW). He has been nominated for 'Outstanding Service and Care Awards (OSCA)' for four consecutive years, including being shortlisted for 'Peoples' Choice Award for 2021′. In early 2022 he was also awarded the 'World Class Colleague Award for 2021' recognising the compassionate care that he has provided to his patients.
He has a keen interest in medical and neurosurgical education. His passion is training and medical leadership, working on macro-level health solutions through local quality improvement and collaborative projects to improve patient experiences in their healthcare journey. To that end, he has trained many young neurosurgeons in the U.K. He has now joined the Central England Neurosurgery group.
Specialist Interests:
Degenerative spinal disorders leading to back and neck pains.
CSF related disorders: Idiopathic Adult Normal Pressure Hydrocephalus (iNPH), Chiari Malformation and Syringomyelia.
Head Injury.
Brain tumours.
Spinal (Intradural) tumours.
Nerve Entrapments: Carpal tunnel syndrome & Ulnar nerve entrapment.
Research Experience:
1. Collaboration in BASICS – Multicentre National Trial.
2. Principal Investigator – UK Chiari 1 Study (Oxford-led National study) at University Hospitals Coventry and Warwickshire.
Publications:
 Complete third nerve palsy as a presenting feature of an interpeduncular lipoma. James LE, Roberts SAG, Hussain R et al.: Br J Neurosurg. 2021.
Antibiotic or silver versus standard ventriculoperitoneal shunts (BASICS): a multicentre, single-blinded, randomised trial and economic evaluation. BASICS Study collaborators. Lancet. 2019.
Factors affecting the survival following surgical treatment of chronic subdural haematoma: Single institutional experience. Hussain R, Afzal M et al: J Clin Neurosci. 2017.
Ventriculo-peritoneal shunt independence following successful treatment of Gram-negative (E. coli) ventriculitis: Case report and review of the literature. Hussain RA, Sainuddin S et al: Br J Neurosurg. 2016.
Patient dependant on ventriculo-atrial shunt after 49 years. Jones HM, Hussain R et al: Br J Neurosurg. 2015.
Cervical arthropathy caused by gout: stabilisation without decompression. Thavarajah D, Hussain R et al: Eur Spine J. 2011.
Postoperative cervical cord compression induced by hydrogel (DuraSeal): a possible complication. Thavarajah D, De Lacy P, Hussain R et al: Spine (Phila Pa 1976). 2010.
Languages
English
Hindi
Urdu
Telugu
Interests out of profession:
Innovative cooking.
Indian classical music and Urdu poetry.
Traveling.
World history.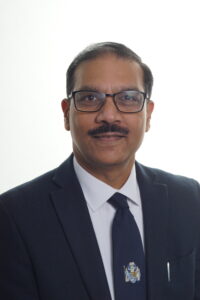 Professional Affiliations
Fellow of Royal College of Physicians and Surgeons of Glasgow.
Faculty in Warwick Medical School.
Member of Society for Research in Hydrocephalus and Spina Bifida.
Member of Society of British Neurological Surgeons.
Full member of World Spine Column Society.
Member of World Hydrocephalus Society.
Member of British Medical Association.
GMC Accredited Trainer in Neurosurgery.